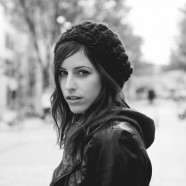 Mar

29
Tags
Related Posts
Share This
Brenna v.K.
Brenna v.K. (Brenna von Kleist) makes a fluent jump from electronic music producer to singer/songwriter with her debut single "Promises of Pretty Things." Written, produced and arranged by Brenna, this song is a strong start to her nascent music career.
It makes no difference if you're into electronic or alternative music, this track seamlessly bridges the gap between the two. Brenna's laid-back and effortless vocal delivery brings a human and vulnerable touch to a bed of frosty synths, comfortably blending woman and machine. Underneath it all, the drum track puts you in a trance-like state with a rhythm that feels like a constantly skipping heartbeat, making this a song that is not only heard, but felt.
If you've ever been in a state of flux between numbness and a heavy heart, lay back and put this song on repeat. You've found your anthem.
Listen to the interview with Brenna v.K. as she talks about her debut release and more!

Check out "Promises of Pretty Things"

Brenna v.K.'s top 10 favorite songs (in no particular order):
1. Backmask – Mindless Self Indulgence
2. On – Aphex Twin
3. Days Of Phoenix – AFI
4. Be There 4 U – Ill Skillz
5. Automation Structures – Coaltar of the Deepers
6. A Line You Can Cross – Lansing Dreiden
7. Forest Hymn – Deep Forest
8. The Captain – The Knife
9. Ice Cube – Juno Reactor
10. Caribbean Blue – Enya