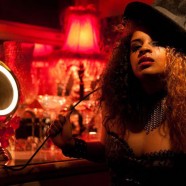 Aug

24
Tags
Related Posts
Share This
Vee Dot
Los Angeles based singer/songwriter Vee Dot is a one woman rock powerhouse. Drawing from some of the greats of rock music such as Whitesnake, The Foo Fighters and Skid Row, Vee's look and sound is exactly what the next incarnation of modern rock could be.
Thick, heavy and wonderfully produced, her single "Touch Me" will hit you right between the eyes, sending you into a rock coma! There's no doubt that Vee has got a natural grasp for the genre as well as a serious gift for cranking out gut-punching tunes.
Her music will come after you like a schoolyard bully at three o'clock, so if you don't want to get your ass beat, you'd better start running.
Listen to the interview with Vee Dot.

Watch the video for "Touch Me."
Vee Dot's top 10 favorite songs (in no particular order):
1. Still of the Night – Whitesnake
2. Youth Gone Wild – Skid Row
3. Breaking the Law – Judas Priest
4. Tease Me – LiAnne La Havas
5. The Pretender – Foo Fighters
6. Criminal – Fiona Apple
7. Closer  -Nine Inch Nails
8. Are you that somebody – Aaliyah
9. Electric Eye – Judas Priest
10. 1+1 – Beyonce