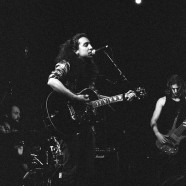 Mar

26
Tags
Related Posts
Share This
Needshes
Needshes is an indie rock band from Moscow comprised of members: Otto Salamov (vocals, acoustic guitar, keys, clarinet), Ilya Maksimov (guitars), Kirill Samsonov (bass guitar) and Andrew Kostikov (drums).
Much of their material has a solid, driving, feel to it, however their track "I Know" shows that they have mastery of creating brilliant ballads as well. From the get-go, you're pulled in by the incredibly clever use of a banjo, which gives the song a distinct and exotic sound. Couple that with Otto's flawlessly smooth vocals and the band's beautifully controlled  performance and you've got indie-ballad perfection.
Do yourself a favor and check it out!
Check out the rest of their songs on Soundcloud!